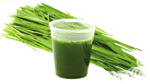 Wheat Grass
Wheatgrass is one of the most potently healthy substances on earth. Just a few of the benefits reported are boosts in energy levels, skin clearing up and colds, coughs and illnesses disappear forever. Others have seen their

gray hairs vanish, Rosacea clear up,

bad breath subside, allergies clear up and much more.
You cannot detract from the simple fact that wheatgrass:
30mls of freshly squeezed wheatgrass juice is equivalent in nutritional value to 1kg of leafy green vegetables
Wheatgrass contains over 90 minerals, including high concentrations of the most alkaline minerals: potassium, calcium, magnesium and sodium
It contains the essential enzymes: Protease (assists in protein digestion), Cytochrome Oxidase (a powerful anti oxidant), Amylase (facilitates digestion), Lipase (a fat splitting enzyme), Transhydrogenase (strengthens the heart muscle) & Superoxide Dismutase (SOD) (found in all body cells and is known for its ability to lessen the effect of radiation and slow cellular aging)
Just one teaspoon of Wheat Grass powder, weighing a mere 3.5 grams, is nutritionally equal to an entire spinach salad weighing a full 50 grams – it packs a punch!
Wheatgrass has more vitamin C than oranges and twice the vitamin A as carrots!
Wheat grass juice helps your body to build red blood cells which carry oxygen to every cell. By increasing the oxygenation the body you can help offset smog and carbon monoxide and increase your endurance during physical exercise
It also contains 19 amino acids, the building blocks of protein.

Wheat Grass Enema Recipe:

1 oz. Wheat Grass juice.
2 qt. warm filtered water
Temperature 103°Fahrenheit

Directions for Administering an Enema

Repeat as needed or desired.

If you have trouble with constipation, you can use a wheat grass enema several times a week, and the coffee
retention enema once a week. The bowels should shortly move work normally, and the colon will be clean, the stool will not be as foul-smelling. If you suffer from colitis, use the wheat grass enema several times a week, Or anytime pain from colitis is experienced, this enema will quickly relieve the discomfort. You can replace the wheat grass with lemon juice or
garlic juice


Remember to Thoroughly Wash Your Equipment after Use

You can Use your back button to return to the previous page.

For qualaity enema and colonic supplies + much much more
visit Enema Supply.Com

You will be absolutely amazed at the supply of herbs and herbal products!!


If it's about health...we're there! Yoga for the mind and body + an assortment of great products.






Coffee enemas have amazing benefits for detoxifying the liver. Try Wilson's.




Warning: Do not use enemas or laxatives if abdominal pain, nausea, or vomiting are present unless directed by your health care provider.
Rectal bleeding or failure to have a bowel movement after use of a laxative or enema may indicate a serious condition.
Discontinue use and consult your health care provider.
Statements contained within these web pages are for informational purposes only,
and have not been evaluated by the FDA.
These products are not intended to diagnose, treat, cure, or prevent any disease.
If pregnant or have an existing medical condition consult your healthcare provider before using.