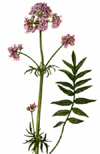 Valerian Root


Valerian is believed to have been used since at least the time of ancient Greece and Rome.
Therapeutic Actions
Valerian can be classified in many different therapeutic categories. It is one of the best nervine herbs for its efficacy in treating disorders of the nervous system and in calming the entire body. Other categories include anodyne (pain reliever), anti-inflammatory, antispasmodic, antiemetic, carminative (tones, soothes, and stimulates the digestive and elimination systems), sedative, hypnotic, antihypertensive, and antibacterial.

Indications
The herb valerian is most effective in treating a wide range of stress conditions such as irritability, depression, fear, anxiety, nervous exhaustion, hysteria, delusions, and nervous tension. It is also indicated for patients who suffer from insomnia. Valerian not only eases the trouble of falling asleep but also improves the quality of sleep during the night

There is no consensus on what the active constituents of valerian are. It's possible that valerian's activity may result from a combination of compounds rather than any one. Valerian appears to increase the body's available supply of the neurotransmitter gamma aminobutyric acid (GABA), possibly by increasing its production, decreasing its absorption or slowing its breakdown.



Valerian possible side effects and drug interactions: People taking medications for insomnia or anxiety, such as benzodiazepines, should not combine these medications with valerian.

Side effects of valerian may include headache, dizziness, itchiness, upset stomach, drowsiness during the daytime, dry mouth and vivid dreams.

Enema Recipe:
2 tbsp. valerian root outer or 4 capsules empty capsules into water
2 quarts warm filtered water ( Mix well )

Temperature 103° Fahrenheit