Lemon Juice and Baking Soda Enema Recipe






This enema recipe, is not for the inexperienced user. As it creates a large amount of gas in the intestines.

This recipe requires two enema bags one for the lemon juice solution and one for the baking soda solution.
A good tool for this is the
E'Lavage enema bag System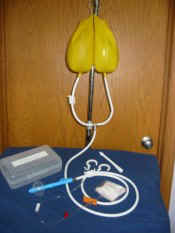 This kit provides a compact design allowing use of two different types of enema solution during one session.
The 2 qt enema bags are translucent allowing you to view the amount of solution in the bag which makes taking an enema series more effective, as does the retention nozzle.

The enema kit contains: Two, 2 qt. folding translucent latex bags, Flexible enema Nozzle, all tubing, fittings and shut-off clamps, steel double bag hanger used to hang both bags together, 2 single bag hangers, 1 straight enema/douche nozzle, set-up instructions.

By adding two more tubing clamps you will have complete control of the solutions you are using. I like to use a ramp clamp for the one next to the nozzle for better flow control.

Enema Recipe:

Juice from 3 lemons.
2 qts. of warm filtered water mix together
Fill one bag
----------------------------------------------------
8 tbsp. Baking Soda
2 qts. of warm filtered water mix together
Fill the other bag

Temperature 103º Fahrenheit

Directions for Administering an Enema

You can Use your back button to return to the previous page.
For qualaity enema and colonic supplies + much much more
visit Enema Supply.Com

You will be absolutely amazed at the supply of herbs and herbal products!!


If it's about health...we're there! Yoga for the mind and body + an assortment of great products.






Coffee enemas have amazing benefits for detoxifying the liver. Try Wilson's.




Warning: Do not use enemas or laxatives if abdominal pain, nausea, or vomiting are present unless directed by your health care provider.
Rectal bleeding or failure to have a bowel movement after use of a laxative or enema may indicate a serious condition.
Discontinue use and consult your health care provider.
Statements contained within these web pages are for informational purposes only,
and have not been evaluated by the FDA.
These products are not intended to diagnose, treat, cure, or prevent any disease.
If pregnant or have an existing medical condition consult your healthcare provider before using.