Double Balloon Catheter in Use






Using a double balloon catheter is an excellent tool if you have trouble retaining your enema solution. After inserting the front balloon and inflating it. You feel the outer balloon pulling against the outside of the anus trying to get inside. Then you inflate the outer balloon and feel the balloon on the inside pulling against the inside of the anus making a tight seal. So no enema solution will leak out. Depending upon the size of the double balloon catheter. They can be quite stimulating to the rectum. Men will probably find them somewhat more stimulating than women, because of the prostate gland. The larger balloon sizes tend to put pressure on the pelvic floor, possibly causing pleasurable stimulation for both genders .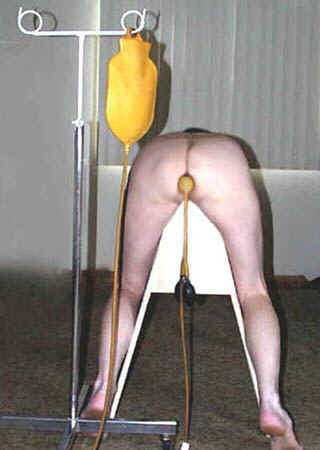 250X250 Double Balloon Catheter in Use
By using a double balloon catheter you can take and hold more enema solution than with a standard enema nozzle. Especially if you are using a stimulating enema solution such as strong soap suds. You can use a larger volume of solution, because you do not have to worry about trying to maintain anal sphincter control as much. You can relax and enjoy a large volume enema in this way.
You can Use your back button to return to the previous page.

For qualaity enema and colonic supplies + much much more
visit Enema Supply.Com

You will be absolutely amazed at the supply of herbs and herbal products!!


If it's about health...we're there! Yoga for the mind and body + an assortment of great products.






Coffee enemas have amazing benefits for detoxifying the liver. Try Wilson's.

File Inventory Page

Warning: Do not use enemas or laxatives if abdominal pain, nausea, or vomiting are present unless directed by your health care provider.
Rectal bleeding or failure to have a bowel movement after use of a laxative or enema may indicate a serious condition.
Discontinue use and consult your health care provider.
Statements contained within these web pages are for informational purposes only,
and have not been evaluated by the FDA.
These products are not intended to diagnose, treat, cure, or prevent any disease.
If pregnant or have an existing medical condition consult your healthcare provider before using.