Black Walnut Enema Recipe

Black walnut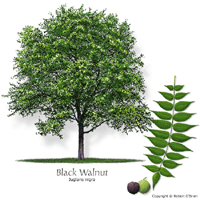 The black walnut has a long history of medicinal and food uses. Once used as treatment for diphtheria and syphilis, black walnut is now used mostly for the astringent properties of its hulls and bark. The nuts continue to be a popular ingredient in a number of bakery products. Black walnuts contain essential fatty acids that may help to protect the body against heart disease.

The astringents in black walnut, known as tannins and juglone, help to tighten the top layers of skin or mucous membranes, thereby limiting secretions, relieving irritation, and improving tissue firmness. Consequently, black walnut has been considered an effective treatment for gastrointestinal problems such as indigestion, constipation, and diarrhea. Many believe that black walnut may have some ability for eliminating internal parasites such as tapeworms.

A liquid mixture made from black walnut extract may be used as a gargle to use in connection with mouth sores, sore throats, and to disinfect skin wounds. Some studies show that black walnut may have anti-inflammatory properties that are useful in relieving the surface of the skin from irritation, injury, or infection.


The brown stain found in the black walnut green husk contains organic iodine which has antiseptic and healing properties.
Enema Recipe:
2 to 4 tbsp. Black walnut make into a tea.
1½ quarts warm filtered water ( Mix well )


Temperature 103º Fahrenheit

Black Walnut forms

You can Use your back button to return to the previous page.

For qualaity enema and colonic supplies + much much more
visit Enema Supply.Com

You will be absolutely amazed at the supply of herbs and herbal products!!


If it's about health...we're there! Yoga for the mind and body + an assortment of great products.






Coffee enemas have amazing benefits for detoxifying the liver. Try Wilson's.


Warning: Do not use enemas or laxatives if abdominal pain, nausea, or vomiting are present unless directed by your health care provider.
Rectal bleeding or failure to have a bowel movement after use of a laxative or enema may indicate a serious condition.
Discontinue use and consult your health care provider.
Statements contained within these web pages are for informational purposes only, and have not been evaluated by the FDA. These products are not intended to diagnose, treat, cure, or prevent any disease.
If pregnant or lactating or have an existing medical condition consult your healthcare provider before using.
Enemas are a gentle, safe and intelligent way to assist your colon to function properly.
You should Never feel embarrassed or humiliated about the need to use an Enema.
Feel proud that you give yourself permission to care for your body.