People of every continent have used volcanic ash for ages both internally and externally.
(Bentonite) clay is part of the ash released when a volcano erupts. Often a fine steamer of mist blown out which usually contains a substance known as a colloid or volcanic ash. This sifts to earth and as it contains many minerals (20 or more minerals in Bentonite) it serves to mineralize the soil. Frequently, however, it can be mined in veins of 2 to 3 feet wide and deep but many yards long. The value of Bentonite lies in its very fine molecule and its negative electrical attraction for positively charged atoms. The extra fine molecule gives it greater surface area and thus stronger adhesive or pulling power, its negative charge enables it to pick up positively charged toxic material from the alimentary canal to be expelled in the feces. There is no evidence that it has any chemical action on the body. Its power is purely physical. There is no evidence that Bentonite's 25 to 33 minerals can be absorbed into the body because its own adhesive power seems to be stronger.
Technically, the clay first adsorbs toxins (heavy metals, free radicals, pesticides), attracting them to its extensive surface area where they adhere like flies to sticky paper; then it absorbs the toxins, taking them in the way a sponge mops up a kitchen counter mess.
There is an electrical aspect to bentonite's ability to bind and absorb toxins. According to Yerba Prima, a company based in Ashland, Oregon, which markets Great Plains Bentonite, the clay's minerals are negatively charged while toxins tend to be positively charged; hence the clay's attraction works like a magnet drawing metal shavings. But it's even more involved than that.
Once hydrated (combined with water), bentonite has an enormous surface area. A single quart bottle can represent a total surface area of over 900 square yards. Bentonite is made of a great number of tiny platelets, with negative electrical charges on their flat surfaces and positive charges on their edges.
When bentonite absorbs water and swells, it is stretched open like a highly porous sponge; the toxins are drawn into these spaces by electrical attraction and bound fast. Bentonite can absorb pathogenic viruses, toxins, and pesticides and herbicides. The clay is eventually eliminated from the body with the toxins bound to its multiple surfaces.
Clay's adsorptive and absorptive qualities may be the key to its multifaceted healing abilities.
Benefits reported by people using liquid clay for a period of two to four weeks include: improved intestinal regularity; relief from chronic constipation, diarrhea, indigestion, and ulcers; a surge in physical energy; clearer complexion; brighter, whiter eyes; enhanced alertness; emotional uplift; improved tissue and gum repair; and increased resistance to infections. Clay works on the entire organism. No part of the body is left untouched by its healing energies.
Bentonite can end bouts of diarrhea. When 35 individuals (average age 51) suffering from diarrhea took two tablespoons of bentonite in distilled water daily, the diarrhea was relieved in 97% (34 of the 35 patients) in 3 days, regardless of the original cause of the problem (allergies, virus infection, spastic colitis, or food poisoning). A safe and highly effective solution in treating acute diarrhea.
Regular intake of liquid clay (typically one to three tablespoons daily, in divided doses) can produce other benefits including parasite removal from the intestines, allergy and hay fever relief, and elimination of anemia and acne. It reduces discomfort from allergies by quickly neutralizing allergens that would otherwise produce allergic reactions; and it reduces heartburn and indigestion by absorbing excess stomach acids.
However, clay's forte is probably its role as a general internal detoxification and cleansing agent. According to Keith Payne of White Rock Mineral Corporation in Springville, Utah, clay scrapes and cleans the lining of the colon. "As the colon becomes cleaner, its ability to absorb minerals and other nutrients increases, making the minerals even more bioavailable, thus giving more energy."
Some Bentonite is derived from an ancient seabed formation in Utah; according to geologists, the clay formed when a layer of volcanic ash fell into what was, long ago, a shallow inland sea.
The best way to drink clay is on an empty stomach, or at least an hour before or after a meal or immediately before sleeping at night. Typically, clay is available as a thick tasteless, pale-grey gel, but it also comes as in powder or encapsulated.
Generally, it is advisable to start with one tablespoon daily, mixed with a small amount of juice or water 6 to 12 oz. should be sufficient, observe the results for a week, then gradually increase the dosage to no more than four tablespoons daily, divided throughout the day. Drinking clay can be an annual spring cleaning of your gastrointestinal tract or it can be a symptom-focused, self-care method of intestinal improvement.
Using Bentonite clay in enemas !
Enema Recipe:

In a 2 qt. container mix
8oz. Bentonite clay
1½ qts. warm filtered water
Temperature 103 Fahrenheit
Stir well and pour into enema bag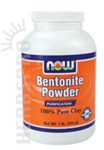 Directions for Administering an Enema