Balloon Enema Catheter

Balloon Enema Catheter
The ultimate in enema retention devices.
Balloon catheters were designed originally for medical use. These catheters are used for barium x-rays where large on amounts of barium and or air would be injected into the colon and need to to be retained for long periods of time during a procedure. This type of balloon catheter is generally used on people who have trouble maintaining their anal sphincter muscle or any person that cannot retain the amount of solution or air that is used during a barium enema procedure.
The latex balloon catheter pictured is a 250cc.x 250cc. balloon size. ( cc = cubic centimeter)
Balloon catheters come in a variety of sizes from 15 cc. to 750 cc. size balloons.
The first balloon is inserted just inside the anus and the balloon inflated.
Then the balloon outside of the anus is inflated this gives a very good anal seal.
The only lubricant to use on any latex product is a non petroleum based lubricant.
Such as Sliquid Organics H2O Lubricant Astroglide - Latex Safe Lubricant KY Jelly
Never use Vaseline or any petroleum based lubricant on this or any latex type of catheter.
Petroleum products break down and destroy the latex rubber.
(2) The bottom balloon catheter is a latex single balloon of a larger size. 750cc.( cc = cubic centimeter) Single rectal retention catheter permits easy insertion, then gentle inflation, giving the person receiving the enema the ability to relax the sphincter muscle and take in and, if necessary, retain the enema.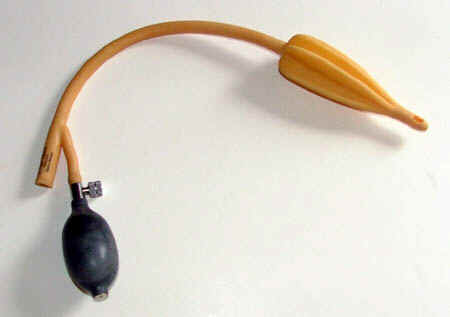 750cc. deflated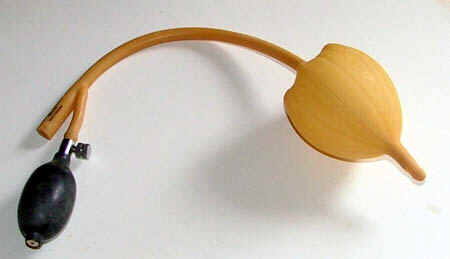 750cc. inflated W/10pumps
Balloon Catheters can be found in several shapes and sizes.
This is a great device for people who require a way to receive large enemas without leakage, even during cramping. Retention nozzles permit the anal sphincter to relax, even when taking large volume high enemas and retention enemas.
You can Use your back button to return to the previous page.


For qualaity enema and colonic supplies + much much more
visit Enema Supply.Com

Bulk herbs as well as an amazing supply of medicinal herbs and aromatherapy



Complete your body regimen with yoga for the mind and body + an assortment of great products.






Coffee enemas have amazing benefits for detoxifying the liver. Try Wilson's special brew!






Visit Herbspro.com for Branded Vitamins and Herbal Supplements


Warning: Do not use enemas or laxatives if abdominal pain, nausea, or vomiting are present unless directed by your health care provider.
Rectal bleeding or failure to have a bowel movement after use of a laxative or enema may indicate a serious condition.
Discontinue use and consult your health care provider.
Statements contained within these web pages are for informational purposes only,
and have not been evaluated by the FDA.
These products and information are not intended to diagnose, treat, cure, or prevent any disease.
If pregnant or have an existing medical condition consult your healthcare provider before using.