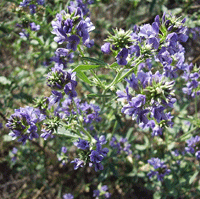 Alfalfa
The healing benefits of alfalfa are many and varied almost constituting a 'miracle' herb. Since early times, Ayurvedic physicians in ancient India often used alfalfa as a digestive aid and nutritive. They also used the seeds of the alfalfa plant topically as a poultice for boils and wounds. In addition, it was used to treat arthritis and edema.
A cooling poultice was made from the seeds for boils. At the time, alfalfa was also believed to be helpful towards people suffering from arthritis and water retention.
Certain medical conditions are said to be those which can be combated on a regimen of alfalfa. They are atherosclerosis, heart disease, stroke, cancer, diabetes, and endometriosis.
Drug and Alcohol Dependency
The health benefits of alfalfa also extend to alcohol and drug dependency – the herb is used to combat these conditions due to its alkalizing properties, which promote detoxification.

Cholesterol, Heart Disease and Strokes
One of the important health benefits of alfalfa is the vital role it plays as an effective controller of cholesterol. The fibers and chemicals in alfalfa seem to stick to cholesterol, preventing it from remaining in the blood or depositing itself on arterial walls.
It appears that the ingestion of alfalfa rids the body of the harmful types of cholesterol, but HDL (high density lipoprotein) is seemingly untouched by the effects of alfalfa.
Hence, it is believed that alfalfa prevents plaque formation on the arterial walls, thereby as a consequence preventing heart disease and strokes, as well as being responsible for lowering blood cholesterol levels.
Alfalfa Health Benefits on Blood Sugar and Diabetes
Another of the health benefits of alfalfa is its effects on blood sugar levels. Due to the high manganese content in alfalfa, it is believed to marginally lower blood sugar levels, and therefore is recommended for diabetics.
Diabetics who have had problems responding to insulin have noticed better results from taking alfalfa and manganese.
Cancer
The health benefits of alfalfa are believed to reach out to cancer, too. Cancer studies have also seen a correlation between alfalfa intake and incidence of cancer. It is reported that alfalfa helps to bind carcinogens in the colon, and is effective in their speedy elimination.
Also, during post cancer treatment of chemotherapy with drugs like Cytoxan and Neosar, alfalfa has been reported to reduce and sometimes completely reverse the immune depression caused by these anti-cancer drugs.
Benefiting People on Antibiotics, Anti-Cholesterol Medications, Anti-Seizure Medications and Steroids
Also, besides the above, those on a regimen of antibiotics like amoxicillin, gentamicin, streptomycin and tetracycline would benefit greatly from alfalfa consumption, as it restores the levels of vitamin K in the body. Vitamin K gets depleted when using these antibiotics.
It is also known to benefit those who are on anti-cholesterol medication, anti-seizure medication and steroids. All these reduce the level of vitamin K in the body, and alfalfa helps to build up reserves.
Alfalfa is a rich natural source of chlorophyll, vitamins, minerals and protein which supports a healthy colon. Alfalfa has also been used to treat kidney stones, relieve fluid retention and swelling, and nourish the digestive, skeletal, glandular, and urinary systems. Excellent resource for inexpensive bulk herbal products Mountain Rose Herbs