Enema kit suspended 18 inches above the rectum.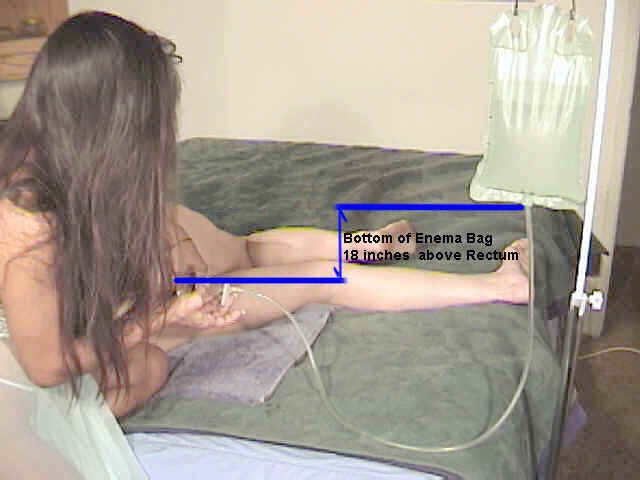 Bottom of Enema Bag Suspended 18 In. above the Rectum.
By suspending an enema bag approximately 18 in. above the rectum will create a gentle comfortable introduction of enema solution into the colon.
Sometimes the enema flow will stop because of pressure build up in the colon, if it does temporarily raise the bag higher to restart the flow of solution. Or stop the flow until the pressure subsides and then restart the flow of solution.

The majority of people find that a slow introduction of warm liquid into the rectum is much easier to tolerate and hold that if the solution is entering and filling the colon at a fast rate of flow.

By slow infusion of solution into the colon will allow more solution to be taken and will be easier to hold so the enema can achieve its purpose.

If you infuse the solution at a fast rate chances are you will not be able to take enough solution or hold it long enough for the enema to do a thorough job. Rapid infusion creates peristalsis in the colon causing the need to evacuate before the enema solution has had time to accomplish its objective.

Abdominal Massage: for a more complete enema experience. When administering or receiving an enema.:
Massaging abdomen in a counter-clockwise direction will help move the solution deeper into the colon.


When it's time to expel or release the enema.
Massage abdomen in a clockwise direction this will help move the solution toward the anus and out.

You can Use your back button to return to the previous page.

Quality enema and colonic supplies and much much more


Amazing supply of herbs and herbal products!!



If it's about health...we're there! Yoga for the mind and body + an assortment of great products.






Coffee enemas have amazing benefits for detoxifying the liver. Try Wilson's.






Secure and private shopping for all personal needs

Warning: Do not use enemas or laxatives if abdominal pain, nausea, or vomiting are present unless directed by your health care provider.
Rectal bleeding or failure to have a bowel movement after use of a laxative or enema may indicate a serious condition.
Discontinue use and consult your health care provider.
Statements contained within these web pages are for informational purposes only,
and have not been evaluated by the FDA.
These products are not intended to diagnose, treat, cure, or prevent any disease.
If pregnant or lactating or have an existing medical condition consult your healthcare provider before using.